After you see 1000-year-old Buddhist statues, you may experience the sutra transcription at the place where the very first of that in Japan took place 1,400 years ago.
You may also have lunch and matcha (powdered) green tea service, if you like.
It is quite relaxing, viewing a rare historic site having lunch and tea.
Lunch
1,800 yen (inc. admission)
Available for 5 or more people admitted.
Reservation required.
A set menu only
The set includes tempura, miso (fermented soybean) soup, green salad, sashimi (raw fish; salmon or other kinds), simmered vegetables cooked with "dashi" broth (fish broth with "umami"), pickled vegetables, and the local specialty "boiled barley and rice mixed with grated yam".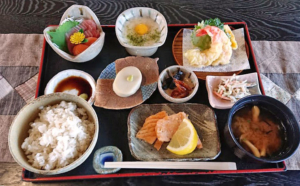 Matcha (powdered) Green Tea
800 yen (inc. the admission)
Suggested Plans with/without lunch and the sutra transcription
Admission, lunch and the one phrase prayer of Shingon Buddhist Sect (55 minutes)
Admission and the ten phrases of Avalokitesvara sutra (35 minutes)
There are different combinations available.
Please let us know if you have any request, so that we can make your own plan.